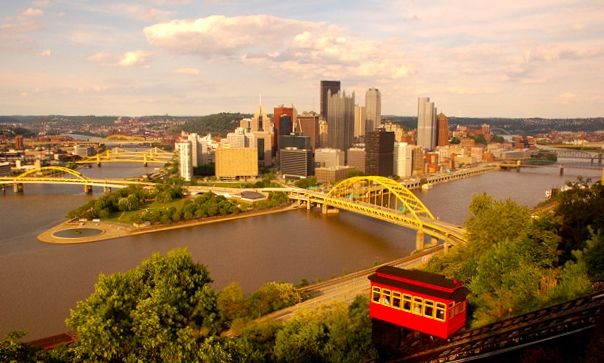 Courtesy of Derek J. Cashman
HCOMP 2014 Registration Information
November 2-4, 2014
Omni William Penn Hotel
Pittsburgh, Pennsylvania

To register, please use the HCOMP-14 online registration form.
November 2: HCOMP-14 Workshops/Doctoral Consortium
November 2: HCOMP-14 Opening Reception
November 3-4: HCOMP-14 Technical Program
November 3: HCOMP-14 Banquet

PREREGISTRATION IS ENCOURAGED. The HCOMP-14 technical conference registration fee includes admission to all technical paper and poster sessions, invited talks, the opening reception, and an electronic copy of the HCOMP-14 Conference Proceedings. Technical registrants also receive a discount on attendance at the workshop program on Sunday, November 2.
HCOMP-14 Registration Fees
Technical Program Only (November 2-4)
Early (by Sept 19)
Late (by Oct 10)
Onsite (after Oct 10)
Member
475
550
700
Student Member
295
375
525
Nonmember
590
665
815
Student Nonmember
390
470
620
Platinum Rates (Includes one-year new or renewal membership in AAAI)
Regular
620
695
845
Student
370
450
600
Workshop Registration
The HCOMP-14 Workshop fee includes admittance to the workshop program on Sunday, November 2, and any accompanying electronic materials. Technical registrants are eligible for a discounted rate.
(For workshop descriptions, please see complete information at http://www.humancomputation.com/2014/).
Workshops
W1: Crowdsourcing, Online Education, and Massive Open Online Courses
W2: Citizen + X: Workshop on Volunteer-based Crowdsourcing in Science, Public Health and Government
Workshop with Technical Registration
Regular 100
Student 65
Workshop Only Registration
The Workshop Only fee does NOT include admittance to the HCOMP-14 technical sessions, reception, or banquet. Registration is valid only for the day of the workshops.
Regular 150
Student 85
Opening Reception
Admittance to the HCOMP-14 Opening Reception (November 2) is included in the HCOMP-14 technical conference registration. Guests are welcome for the following fee:
Opening Reception Guest: $70.00
Banquet
Admittance to the HCOMP-14 Banquet (November 3) is included in the HCOMP-14 technical conference registration. Guests are welcome for the following fee: $90.00
2014 HCOMP Proceedings
A hard copy of the HCOMP-14 proceedings may be purchased at the pre-publication price of $35.00 during the preregistration period. (Shipping is additional and will be calculated at the time of shipment after the conference.)
Payment Information
Payment of registration fees is required at the time of registration. Checks or international money orders must be in US dollars and should be made out to AAAI. American Express, MasterCard, and VISA are also accepted. Registration applications must be submitted online by the registration deadlines to qualify for reduced rates. If you qualify for student rates, please submit your proof of student status to AAAI by email attachment to hcomp14@aaai.org or by fax to +1-650-321-4457.
Refund Requests
The deadline for refund requests is October 17, 2014. No refunds will be granted after this date. All refund requests must be made in writing to hcomp14@aaai.org. A $100.00 processing fee will be assessed for all refunds.
Visa Information
If you require a letter of invitation, please send the following information to hcomp14@aaai.org:
First/Given Name:
Family/Last Name:
Position:
Organization:
Department:
City:
Zip/Postal Code:
Country:
Email:

Are you an author of a paper?
Are you presenting at a workshop?
Paper title:
Workshop Name:
If not an author, Registration Confirmation #:
Passport Number/Date of Birth (if required):

Onsite Registration
Onsite registration will be held in the foyer of the William Penn Ballroom on the William Penn - Conference Level of the Omni William Penn Hotel, 530 William Penn Place, Pittsburgh, PA 15219 USA. All attendees must pick up their registration packets for admittance to programs. Registration hours will be Sunday, November 2, 8:00 am - 5:00 pm; Monday, November 3, 8:00 am - 5:00 pm; Tuesday, November 4, 8:30 am - 12:00 pm.
For Questions
HCOMP-14 Registration
AAAI
2275 East Bayshore Road, Suite 160
Palo Alto, CA 94303
+1-650-328-3123
hcomp14@aaai.org