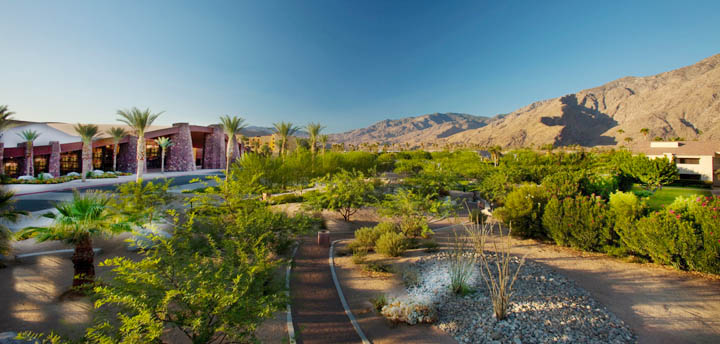 Photo Courtesy of Palm Springs Bureau of Tourism
The First AAAI Conference on Human Computation and Crowdsourcing (HCOMP-2013) will be held November 7-9, 2013 in Palm Springs, California, USA. The conference is aimed at promoting the scientific exchange of advances in human computation and crowdsourcing among researchers, engineers, and practitioners across a spectrum of disciplines. The conference was created by researchers from diverse fields to serve as a key focal point and scholarly venue for the review and presentation of the highest quality work on principles, studies, and applications of human computation. The meeting seeks and embraces work on human computation and crowdsourcing in multiple fields, including human-computer interaction, cognitive psychology, economics, information retrieval, economics, databases, systems, optimization, and multiple subdisciplines of artificial intelligence, such as vision, speech, robotics, machine learning, and planning.
Submissions are invited on efforts and developments on principles, experiments, and implementations of systems that rely on programmatic access to human intellect to perform some aspect of computation, or where human perception, knowledge, reasoning, or physical activity and coordination contributes to the operation of larger computational systems, applications, and services. The conference will include presentations of new research, works-in-progress and demo sessions, and invited talks. A day of workshops and tutorials will follow the main conference. Submissions to the main conference will be due on May 10, 2013. Authors will be notified about the acceptance and rejection of paper submissions on July 16, 2013. Accepted papers will be due in camera-ready form on September 4, 2013. A complete set of deadlines and notification dates for workshops, tutorials, works-in-progress and demonstrations can be found on the right.
HCOMP 2013 builds on a series of four successful earlier workshops (2009,2010,2011,2012). All full papers accepted at this first conference will be published as AAAI archival proceedings in the AAAI digital library. While we encourage visionary and forward-looking papers, please only submit your best novel work; the paper track will not accept work recently published or soon to be published in another conference or journal. However, to encourage exchange of ideas, such work can be submitted to the non-archival work-in-progress and demo track. For submissions of this kind, the authors should include the venue of previous or concurrent publication.
There will also be a two-day CrowdCamp at HCOMP 2013 to turn crowdsourcing ideas into concrete prototypes, organized by Lydia Chilton (UW). More information will be announced soon.
Where
Renaissance Palm Springs Hotel
Palm Springs, California
When
November 7-9, 2013
Important Dates
All deadlines are 5pm Pacific time unless otherwise noted.
Papers
Submission deadline: May 10, 2013
Author rebuttal period: June 21-28
Notification: July 16, 2013
Camera Ready: September 4, 2013
Workshops & Tutorials
Proposal deadline: May 10, 2013
Notification: July 16, 2013
Camera Ready: September 4, 2013
Works-in-Progress & Demonstrations
Submission deadline: July 25, 2013
Notification: August 26, 2013
Camera Ready: September 4, 2013
Submissions
To submit your work, use the HCOMP 2013 Electronic Submission Site, (cmt.research.microsoft.com/HCOMP2013/).
Paper Format: AAAI , up to 8 pages. Paper submissions are blind - please anonymize your submissions.
Works-in-progress, demonstrations, workshops and tutorials: AAAI, up to 2 pages, plus supplemental material. These submissions do not have to be anonymized.
Follow
@hcomp2013
,
FB Group
.
---

---
Committee
Conference Chairs

Björn Hartmann (UC Berkeley)
Eric Horvitz (Microsoft Research)

Sponsorship Chair

Workshop and Tutorials Chair

Michael Kearns (UPenn)
Aditya Parameswaran (Stanford)

Program Committee

Paul Bennett (Microsoft Research)
Michael Bernstein (Stanford)
Jeff Bigham (University of Rochester)
Yiling Chen (Harvard)
Ed Chi (Google)
Lydia Chilton (University of Washington)
Janis Dickinson (Cornell)
Michael Franklin (UC Berkeley)
Krzysztof Gajos (Harvard)
Hector Garcia-Molina (Stanford)
Elizabeth Gerber (Northwestern)
Jeff Heer (University of Washington)
Haym Hirsch (Rutgers)
Panagiotis Ipeirotis (NYU)
Adam Kalai (Microsoft Research)
Ece Kamar (Microsoft Research)
Henry Kautz (University of Rochester)
Andreas Krause (ETH Zurich)
Edith Law (Harvard University)
Chris Lintott (Oxford)
Greg Little (oDesk)
Mausam (University of Washington)
Robert Miller (MIT)
Jeff Nichols (IBM)
David Parkes (Harvard)
Adam Sadilek (University of Rochester)
Arfon Smith (Adler Planetarium)
Siddharth Suri (Microsoft Research)
Loren Terveen (University of Minnesota)
Adrien Treuille (CMU)
Daniel Weld (University of Washington)
Jennifer Widom (Stanford)
Haoqi Zhang (Northwestern)
---
Location & Housing
Conference Hotel: The conference will take place at the Renaissance Palm Springs Hotel, 888 Tahquitz Canyon Way, Palm Springs, California 92262 USA. We have reserved rooms at a special conference rate - reservations will be available soon.
Weather and Activities: Palm Springs, two hours inland from Los Angeles, has a dry desert climate characterized by warm temperatures, lots of sun and low rainfall throughout the year. In early November, expect highs around 80 degrees Fahrenheit, and lows at night around 55 degrees. For more information about local attractions, see visitpalmsprings.com.
Air Travel: We recommend flying into Palm Springs or Ontario airports. Palm Springs International Airport (PSP) is the closest airport, minutes from the conference venue. Ontario airport (ONT) is 70 miles away (1 hour by car/shuttle). Other Los Angeles area airports also provide access, though LA traffic can increase car travel time substantially. Orange County airport (SNA) is 95 miles away (1.5 hours). Los Angeles International (LAX) is 120 miles away (2 hours by car).
---
Registration
Registration is not yet open.
---
Past Workshops
---